Written by Gene Nardi for The Town Crier.
Recently named large school player of the year, the former Wolverine pitcher's numerous accomplishments through the 2018 season helped propel Wellington to a district title and a state tournament berth. The team fell short in the regional semifinals, losing 2-1 to Lakeland's George W. Jenkins High School.
Farley was the top gun on the mound for the Wolverines in a deep lineup at the pitcher position. She was a commanding force from the mound and finished the season 14-1, boasting a 0.37 ERA with 150 strikeouts in 94 innings.
Her batting skills paralleled her pitching, with a .348 average and four home runs to add to her tally. Her consistent performance helped land her in Gainesville to suit up as a Gator.
"I committed to UF because they are one of the top programs in the nation," she said. "I wanted to compete with the best."
Farley clicked with the Wolverines once she transferred from Palm Beach Gardens High School for her senior year.
"The chemistry on the team was really good, and everyone got along very well," she explained. "We all supported one another. It was nice to play my senior season with a team that worked well together."
Earning the large school player of the year honors reinforced her commitment and dedication that she has plugged into softball. "All the time I put into softball is paying off," she said.
This is due in part to her training at the Athletes Advantage. "I also play travel ball and have swim workouts after the high school season," she added.
The coaching at Wellington was something that Farley grew fond of as she and the Wolverines ripped through opponents during the season. She speaks highly of head coach Mark Boretti and assistant Corey Clawson. "They are a player's coach. They run a competitive program while keeping it fun," Farley said.
As the season progressed, Farley could tell the energy was there. "Based on the tone the coaches set prior to the season, the energy stayed very consistent," she explained. "Through the post-season, again we stayed consistent."
Farley reflected back on her most memorable moment during her senior season as a Wolverine. "My most memorable moment was hitting a three-run homer in the regional quarterfinals against Bartow," she said.
Wellington dominated that game with a 6-1 victory to advance to the regional semifinals.
Farley will continue to play in major tournaments during the summer and continue her swim workouts until she heads to Gainesville in the fall. She will study pre-medicine while playing for the Gators.
To follow Farley and the University of Florida softball program, visit www.floridagators.com.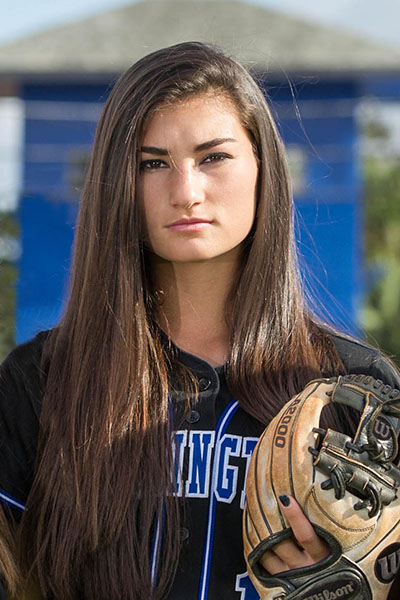 Recent WHS grad Danni Farley before a regular season game.