By Christopher Stock for 247Sports
Kc McDermott explained the changes that needed to be made for the Miami Hurricanes following a four-game losing streak in the middle of the season.
CORAL GABLES, Fla. – The Miami offensive line was struggling during the four-game losing streak in the middle of the season.
Improvements were made and the line was able to hold up down the stretch as the Hurricanes won their final four games to end the regular season.
"Honestly, just a simple mindset change," junior offensive lineman Kc McDermott said. "We came in after that fourth straight loss and we knew we were going to have a tough opponent in Pitt. During that week of practice we just made a mind change saying that we were going to fight through anything no matter what happens and that's exactly what we did. I felt like we got a lot tougher as the year went on and credit to coach (Stacy) Searels and to those the seniors over their making sure we get in shape."
McDermott took it upon himself to make improvements in his performance.
"Just more studying film on my own," McDermott said. "Obviously, talking to other guys and making sure we were all on the same page because you know that is part of being an offensive line is making sure everyone is on the same page and making sure we are all doing the right thing at the right time. So, we all made sure that we accomplished that. We met every Monday on our day off and we did everything we thought we possibly could. We stayed after practice extra and put a little work extra after practice. Ultimately all that time adds up and it helps you win at the end of the year."
McDermott will be looking to help the Hurricanes end a six-game bowl losing streak dating back to 2006, which includes when his older brother Shane McDermott played at Miami (2010-14), when Miami takes on No. 14 West Virginia in the Russell Athletic Bowl on Wednesday (5:30 p.m., ESPN).
"(A win) would help out tremendously," Kc McDermott said. "It would give everybody a confidence boost, it would give everybody a sense that Miami is coming back. It would definitely help out recruiting-wise and it would also send off the seniors the way that they are supposed to be sent off. I sat there my freshman year and watched my brother go through that and last year, watching the seniors go through that. It is a hard thing to watch especially when you know you could have done more to help win the game. So we are going to do that this year. We are going to make sure we accomplish our goal of winning this bowl game."
West Virginia ranks 35th nationally in scoring defense (23.4 points a game), 79th in total defense (431.2 yards a game), 66th in rushing defense (175.5), and 101st in passing yards allowed (255.7).
"They're tough, they're physical, they like to confuse you a little bit and send some exotic blitzes," McDermott said. "But at the end of the day we are going to have to get ready to go and go. Just get ready for them, make sure we watch our film, make sure we come out and practice hard every single day like we have for the past week and take care of business."
Being one of the leaders on the offensive line is something McDermott takes pride in.
"Yeah, you know that definitely resonates with me," he said. "You guys see me out there on the sidelines before the game starts. I really try get the guys going and making sure they are into the game. For the last four games of the year I really thought that not only the guys that were playing, but the sidelines, was really into it and we had a great time in those last four games, as you saw."
The key to being a great lineman at Miami is:
"Just coming out every single day and working your butt off. Making sure you got your assignment and your alignment, and a tough mental attitude about you, that you are not going to get beat. That's all we have been preached from coach Searels and that is all we want. He has brought in some alumni to come in and coach us a little bit and that's exactly how we feel. We feel that we have become a lot more mentally and physically tough throughout the year."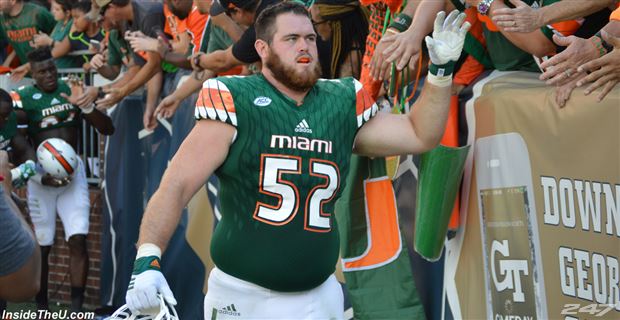 (Photo: Christopher Stock, 247Sports)
Christopher Stock has covered the Miami Hurricanes since 2003 and can be reached by e-mail at stock@insidetheu.com